Hotel information
NOTERE 2010 will take place at El mouradi Hotel - Tozeur (4*)
It is about three kilometres from Tozeur airport, close to the town center and facing the enormous palm oasis.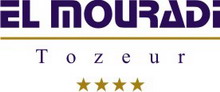 Zone Touristique, 2200, Tozeur , Tunisia
www.elmouradi.com
Hotel reservation
The Organizing Committee has reached an agreement with the conference hotel on reduced prices for the participants of the Conference.
The price is 55 Euro per night per person.
This price includes:
- Accommodation in single room,
- Breakfast, and
- Dinner
If you want to profit from these rates, you should download and fill the following Form (PDF) and send it by Fax or by e-mail to :
Prof. Ahmed HADJ KACEM
e-mail : ahmed.hadjkacem@fsegs.rnu.tn
Fax : (+216) 74 666 578
Tel : (+216) 74 27 87 77
Address: FSEGS, BP 1088, 3018 Sfax, Tunisie
The deadline of hotel booking is April 30, 2010
Other hotels
A (non-complete) list of hotels in Tozeur can be found in the following Web sites:
Weather information

Weather conditions in Tozeur:
| | | | |
| --- | --- | --- | --- |
| Tozeur | May | June | July |
| Average temperatures | 23 | 28 | 31 |
For more information, please visit the followings Web site
NOTERE 2010
Interesting links
Special ISSUES

Springer Journal of Supercomputing

Wiley Concurrency and Computation: Practice and Experiment Journal
Sponsors